Today's [flashback] inane image of the day: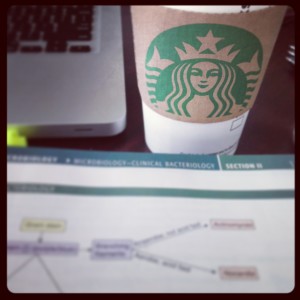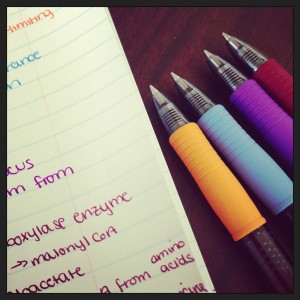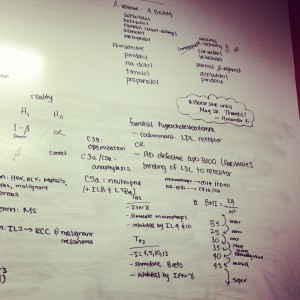 This past week I've had the pleasure of participating in a number of local AMWA at OUWB activities including a networking event and dinner with an Emergency Medicine doctor. Through these events, I've run into M2s that are in the midst of freaking out over the USMLE Step 1 exam. Since most of the entries on wrote with tips on studying for the exam were posted on Kaplan's MedSchoolInsight, I decided to post an updated version that includes a study plan and tips for success.
Basics 
I took the USMLE Step 1 on May 20, 2013 after one semester of annotating + 5 weeks of dedicated study time. The study plan I settled on was based off of the infamous Student Doctor Network [SDN] Taus Method [click here to check it out and download a copy]. This study plan's ultimate goal is to read through First Aid three times and complete UWorld prior to taking the exam. I updated the resources in the plan to include Pathoma instead of Goljan [Note: I ended up buying Goljan's RR Pathology 4th edition as a reference for Step 2].
Study Resources
Yes – I purchased the newest edition of First Aid once it was available [in fact, I pre-ordered it sometime in December so that I had it the earliest moment possible]. The concern over errata in the newest edition is a valid one, however, consider it a way to test yourself on your knowledge. If you can pick up on one then you know your material cold [and you can submit it to the FA team to possibly have your name printed somewhere]. I found that by the time I was a couple of months into annotating, errata already started being posted and I was able to confirm my suspicions with the official corrections.
When Pathoma came onto the scene, I was admittedly a die-hard Goljan fan. However, when I finally gave in and started annotating my Pathoma book with the videos, I converted. Which one is best? Hard to say because it really depends on your learning style and how much time you have to cram all of pathology into your < 5lb brain. Personally, if I could do it all over again, I'd integrate readings from RR Pathology into my MS1/MS2 blocks. But because I didn't do it this way, I stuck with Pathoma.
Microbiology Made Ridiculously Simple
Everyone who hasn't had any background in Microbiology should read this book. It's fun, simple and has great illustrations to help you memorize those pesky bugs.
This cards are real flash cards. One characterizing fact with one bug. Simple. Easy to get through the whole deck in a short period of time to reinforce all that memorization you did.
My study partner ended up transcribing all of the information on this cards into a spreadsheet and we quizzed each other off of that. There's quite a bit of info on each card, which makes them hard to use as actual flash cards… but I used the info on them through a spreadsheet, so I recommend them. I do remember feeling like I knew every single pharmacology question because I memorized every single drug in this deck.
I recommend getting this QBank MS1 year and using it alongside coursework. If you get the "Till you pass" option [with the AMSA discount, which makes it totally affordable] it will disable your account at 1 year but you can call them and they will reactivate it so that you can use it for 2 years total. This is an indispensable resource for learning First Aid while getting used to answering questions [but by no means are these questions similar in style to the real exam – that's what UWorld is for].
I didn't purchase my subscription until dedicated study time and I wouldn't have changed my strategy. These questions are gold and the explanations are platinum, so it's important to really milk this resource for all that it is. I used a notebook to jot down concepts that I got wrong on UWorld then reviewed them every couple of days.
+/- Picmonic
So I put the +/- because I purchased it toward the end of my study time and didn't feel like I got much out of it. Had I started using the resource during MS1 year, I feel like I could have gotten more out of it. It's a cute concept, but there were just too many screens to memorize.
Study Plan
I spent the semester prior to dedicated study time annotating First Aid from the resources I outlined above and the internet [medical students across the country and around the world probably have struggled with similar concepts as you – someone, somewhere has usually posted a great explanation that you'll just have to dig up through Google]. I did opt to cut the binding off of my book and place it into a binder, though it's personal preference on whether you decide to do that. [For OUWB students, you can stop by the OU Print Shop on-campus to get this done for cheaper than going to Kinko's or your local office store]. The advantage to getting it cut is that you can lay the book flat while you're annotating it.
The order that I studied the topics was based on the order they were taught to us MS1/Ms2 year. Since I was still learning a couple of organ systems alongside my review, I made sure to do the annotations for those organ systems prior to the course completion. For example, I had MSK during the Winter semester, so I studied that material first and annotated the MSK section of First Aid before getting to the basic science stuff that I was supposed to be reviewing per my study plan. I had annotated and read 100% of First Aid once.
Once dedicated study time rolled around, I already hammered out an outline of exactly what needed to be done each day. The goal was to re-read/review First Aid once in 3 weeks and a second time in 2 weeks while also finishing up UWorld. Additionally, as a way to keep up with my progress, I took an NBME almost each week. Keep in mind that the most predictive measure of your score are the practice NBMEs [Note: Step 1 = Comprehensive Basic Science Self-Assessment]. I also did both UWorld Self-Assessments in order to use the questions – these tests are known to inflate your predictive score by 10-20 points, so please do not use them to predict your final score on the exam.
I also planned to take the Practice 150 at the Prometric center that I signed up for Step 1 at. This means that you should not use the "free sample questions" through the USMLE Step 1 website, otherwise you will ruin the utility of those questions when you take it at the testing center. Please note that this practice test is not free [I think I paid $75 or something]. When you complete the practice, you will receive your percentage correct score upon checking out of the testing center.
So, without further ado, here's my USMLE Step 1 Study Plan – feel free to download the document and use it as a template for your own study plan.
Tips for Success
Here are some final words of wisdom for all of you:
Pick a study plan and stick to it. Don't let what your colleagues or advisors or anyone else tell you that switching it midway is the best thing for you. If you picked something that ensures you will learn all the material in First Aid and UWorld, you will be successful on the exam.
Take at least one day off each week of dedicated study time. Pick a day of the week that you will always take off – so I took Sundays off because I knew my test day was on a Monday and I scheduled all my practice exams for Monday to simulate the real thing. You will burn out by the end of week 2 if you do not heed this advice.
Take the day before your exam off. All the knowledge you accumulated over the last two years will not magically fall out of your head in that one day that you decide not to study. If you must, make a 1-2 page "high yield" concepts sheet to review the day before, but don't study seriously, please. You want to be fresh for the day of your exam.
Do not change your test date. Seriously. Unless you had something major happen and you missed more than a week or two of dedicated time because of it.
Make time to exercise or get your heart rate up on a daily basis. Sitting at a desk all day hunched over a book or your laptop is not good for your health. You know that.
Find a study partner. You probably shouldn't study together all the time because it may end up being counter-productive, but find someone that you can talk to every couple of days or so to complain or ask questions. Also, I found that taking an hour each week prior to dedicated time to quiz each other on pharmacology was the best decision I ever made.
Simulate a full-length exam at least once during dedicated study time. I did this by taking 2 NBME practice exams back to back [this makes 8 sections, not 7… but close enough]. Trust me when I say that the exam itself is not that difficult, but is a test of your endurance.
Pack some healthy food for the day of the exam. Chips and coke probably will lead to post prandial sleepiness. I personally brought coffee to sip on over the course of the 8-hour day, but I don't suggest doing one thing over another. Personally, I know I'm addicted to caffeine and the steady-stream of it helped keep me alert. Just don't do something different the day of the exam because it may backfire. And you'll have a serious adrenaline rush when you sit down to start, so you may not need more stimulants.
You will pass this exam if you prepared/studied adequately. How well you do on it is a function of many, many, many variables, some of which may be out of your control. Regardless, even if you end up doing below what your target was, it isn't the end of the world. There's always room for improvement on Step 2.
I hope this helps some of you out there! Good luck to everyone trying to tame this beast of an exam.
What other questions do you have for me?