Today's inane image of the day: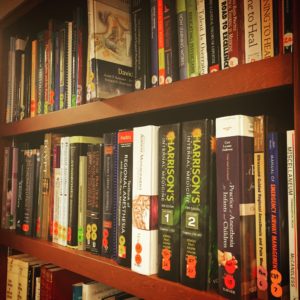 It's that time of year when new residents are roaming hospitals across the country. As a result, I've received an influx of emails, texts and in-person requests for advice on how to study as an anesthesia resident. There are plenty of posts on the SDN Anesthesia forum as well as blog entries from my esteemed colleagues [e.g. Rishi Kumar, AnesthesiaHub]. However, this time last year when I was looking for real advice and guidance on how to study for daily clinical practice knowledge, the ITE and BASIC, I didn't find anything satisfying online. Scrolling through SDN and asking my colleagues led me to recognize that like the USMLE Step 1, there are a plethora of resources but only a fraction of the amount of time necessary to really digest it all. Eventually, I just committed to a plan and sort of stuck with it – this entry attempts to explain that plan and some resources I thought were helpful.
Some Background
Despite matching into the best anesthesia program in the country [ok, I admit that I may be biased in my assessment], I have never been a strong test-taker. I always felt like I had to work twice as hard as some of my colleagues to achieve half as much [so, if you do the math, I needed to work 4-times harder to achieve the same results… or something like that]. MGH does not require the ITE during internship [there are some programs like Mayo that do require the exam even if you are not a categorical resident], so I only had to focus on passing the USMLE Step 3 during my internship. But this also meant that I started CA-1 year with no idea what to expect from the ITE. How were the questions formatted? How many questions were there? How is the exam scored? Does my performance even matter?
What is the ITE?
The ABA [American Board of Anesthesiology] can tell you all about it:
"The ITE is a computer-based exam with 200 multiple choice questions that is administered each year to all physicians enrolled in anesthesiology residency training programs. Residency programs administer the four-hour exam at their sites. Please contact your program for more details on the next administration."
The exam is typically administered in February. You get up to 4 hours to complete 200 questions. The breakdown of questions by subject matter can be found on the ITE Blueprint document. Your department arranges for the testing site – unlike the BASIC, which is through a Prometric center.
Scoring is scaled up to 50. Along with your score report, you will receive a percentile table which gives you your percentile for level of training.
Does my performance on the ITE even matter?
This depends on what you mean by "matter." If you do poorly on the ITE, it may be a reflection of your performance on the written boards in the future. I've heard a lot of talk about fellowships using the ITE as a standardization scale to compare applicants. Ultimately though, it should matter to you since it's an assessment of your knowledge that can help target your studying as you progress through residency. If you direct all of your energy toward studying for this exam and do poorly, you have a chance to recognize that what you were doing wasn't working. It also allows Program Directors to identify residents that may need a little more encouragement to read or resources to review.
What is the BASIC?
Let's let the ABA explain it again:
"Candidates who began the four-year continuum of education in anesthesiology on or after July 2012 and will complete residency training on or after June 30, 2016, will take the new staged exams that complement the movement of the Accreditation Council of Graduate Medical Education (ACGME) toward competency-based training and promotion. The BASIC Examination, the first in the series of exams, will be offered to residents at the end of their CA-1 year. It focuses on the scientific basis of clinical anesthetic practice and will concentrate on content areas such as pharmacology, physiology, anatomy, anesthesia equipment and monitoring."
The exam is administered twice a year – Summer (June) and Fall (November). Again, you get up to 4 hours to complete 200 questions. The BASIC Blueprint document provides a breakdown of question content.
This exam is reminiscent of the days of the USMLE in cost – for standard registration, it was $775. Late registration is $1275. Either way, it's an expensive exam. My department reimbursed us for this cost, but it still hurt to see it on my credit card statement.
Your score is literally PASS or FAIL. I took the exam on June 9th, 2017 and received an email on July 17th, 2017 from the ABA telling me to login to the portal to access my exam result. [In case you were wondering, I passed. Whew.]
How am I really going to balance work and studying?
I remember feeling overwhelmed during medical school with trying to balance coursework and studying for the Step exams, shelf exams and OSCEs. Now that I've finished two years of residency, I can say that it's much harder to find time to keep up with studying as a resident. Perhaps you're in a program that only works 40-50 hours; in that case, it shouldn't be too hard to find time to crack open a book or peruse the latest issue of Anesthesiology. As your hours approach 80, the amount of energy you have to think about doing review questions or opening an intimidating textbook… is minimal.
So, here are a couple of my thoughts on the matter:
Reach out to senior residents in your program for tips; ultimately, most anesthesia residents end up using the same few resources [see later section on specific resources and my thoughts on them], but the question you have to ask yourself is whether you study in a similar manner to the seniors you're asking. If you learn by reading textbooks, ask which ones to pick up. If you learn through didactics, ask which lectures are the best to attend and which ones you will have to seek alternate resources on. If you learn by question banks, determine the best order for you to purchase and complete them.
Hours worked varies substantially between residency programs, but there will always be rotations that are lighter on hours. Ask your colleagues which ones those are and use that time wisely. Consider creating a study schedule for easy months to give yourself concrete reading and review question goals [e.g. finish 1 chapter of M&M daily, finish corresponding Hall questions].
If you had a rough call or day in the OR and don't get studying in, don't perseverate on it. Move on, recognize that the best laid plans often go awry and tomorrow is a new day.
What resources are out there?
Let's just clear the air and accept that there are a mind-numbing number of Anesthesia board review, question banks, online sites and prep courses available. Not all resources are created equally, and most of them come at a cost. What I list below is not an exhaustive list of resources, however I'll go over some of the most common ones I've either used, attempted to use, or heard others use. Please feel free to include your experiences with the following resources and any others I may have missed in the comments section! This list does not include oral boards or OSCE resources.
Online Resources
OpenAnesthesia

Generally this resource will appear as you Google concepts that allude you… [e.g. What is that A-a gradient formula again? PAO2 = FiO2… something something? What is this second gas effect thing my attending keeps mumbling about under their mask? Vapor pressure of Sevoflurane vs. Isoflurane?]. I can't say I ever went to OpenAnesthesia to actively study something. It's kind of like Wiki for ABA board review keywords.
One of the advantages of using OpenAnesthesia as a reference tool is that typically they pull directly from the major textbooks – so you are almost getting a primary source. There are usually references at the bottom, too.

Anesthesia Hub

This is something I discovered later on – can't say I've used it a ton yet, but could see where it will be useful to peruse. I've listed it here because I'd like to remember to go back here again.

SDN Anesthesia

Yes, I was one of those anxious applicants that checked SDN religiously. There are some very interesting clinical threads that have actually helped me in the OR [I was directly asked about ACE inhibitor associated hypotension as an CA1 and knew that Vasopressin was the best treatment option because of a thread I read on SDN Anesthesia]. That being said… there's also a lot of noise on SDN that you have to learn to filter out. Proceed at your own risk.
Review Books
Miller's Basics of Anesthesia ["Baby Miller"]

MGH provides a copy of Baby Miller to every incoming CA1 and provides a reading list for tutorial [our first 5 weeks of residency]. My medical school also provided borrowed copies of the book for us to reference during our required rotation. It's a pretty standard textbook for learning anesthesia and is a reputable, widely used textbook for learning, well, the Basics of Anesthesia [how appropriately titled].
I have personally read most of the book [I cannot truthfully said I've read it cover to cover] and felt that while it was relatively "basic" in its concepts presented, it does so in a way that can be hard to follow at times. The last thing you need when you're exhausted from a busy OR day is to feel like you cannot understand what you're reading.
Make sure you make your own assessment of the book though – often, residency programs have online subscriptions to the most commonly used Anesthesia textbooks whether its from AccessAnesthesiology or ClinicalKey [generally institutional access can be obtained through your library login] – this is one great way to read while on the go [so you don't weigh yourself down with the textbook!] and to decide whether it's worth purchasing.
Anesthesia has made great strides in safety, but the difference between the newest edition of Baby Miller and the most recent one prior… isn't huge. The O2 response curve still looks the same. Consider buying an old edition if you want a paper copy.

Morgan and Mikhail's Clinical Anesthesiology ["M&M"]

M&M is my personal favorite. I think it's easy to read and has specific bolded concepts that you can really drill. The diagrams are easy to understand. And it's available via AccessAnesthesiology.
I've been told that if you understand all of the bolded concepts at the beginning of each chapter, you're all-set for the BASIC. Having now taken the BASIC, I'd agree with that sentiment [doesn't make it any easier to actually apply all of those concepts though].
I've read most of M&M and plan on actually reading it cover to cover before I finish residency. Wish me luck.

Anesthesia: A Comprehensive Review [Hall's Question Book] [Also in iOS App form]

This is a classic question bank/review book. It has survived many, many years of ITEs and board exams and continues to be a gold standard resource. For many years, there wasn't an app – but now that's available for $100 [the book is cheaper… but it's how you wish to spend your money for the convenience of an app].
I used this book as much as I could, but admittedly, it can be hard to commit to this when you're using other qbank resources [see below].
Many of my co-residents that got through this review book reported that they did well on their ITE and BASIC. I believe them. If you understand some of the esoteric questions in this book, you truly have a good grasp of the concept.
As a result of the esoteric questions… it can be frustrating at times to read the explanations. I definitely went online to search for some of the concepts or discussions on the questions that have come up on SDN.
Maybe it's beneficial to do these questions with a study group so you can discuss explanations afterwards.
Either way – I highly recommend this resource.

Anesthesiology Self-Assessment and Board Review: BASIC Exam

Another question-based review book that's new to the market. I personally did not use this resource, but a quick glance through the Amazon preview can give you a good idea of the types of questions available.
The authors are out of Duke and University of British Columbia.
Personally, I'd use what's tried and true [e.g. Hall + ACE + M5 + TrueLearn] before turning to this resource for more questions. Also, I'm biased because our department will also be putting out a review book of questions on both the BASIC and ADVANCED [soon! as in… a few years heh.]

Faust's Anesthesiology Review

When I was at Stanford doing my away rotation, I heard a lot of good things about Faust's book from their residents. Boy, did I wish I listened to them… [I guess some part of me heard their advice because I bought the book, but I just didn't open it until later].
This is truly a digestible review book – chapters are short and succinct and most of them are easy to digest. You can usually read at least one chapter after an exhausting day [maybe I should make that some sort of rating scale – readability post-OR, ha].
While this book does not break itself up into BASIC vs ADVANCED, it's still a resource that I find helpful overall. I plan to finish reading this book prior to my next ITE.
I highly recommend this resource.

Anesthesiology Core Review

Some of the senior residents in my program suggested this book to me as a guideline to launch BASIC exam studying from. I decided to bite the bullet and purchase the book and proceeded to want to rip it up after running into a few editorial issues. While there are inherently going to be errors in books [especially in early editions – I mean, we are all human], it doesn't help your stress level and confidence to be questioning your own knowledge because of you read something that doesn't sound quite right.
Since the book follows the ABA keywords outline… it is comprehensive. But… you could also just download the keywords and make your own review book via the internet. Just saying.
Question Banks [+DISCOUNT CODES!]/Resources
General Anesthesia Textbooks
Other Things
ACCRaC [ANESTHESIA AND CRITICAL CARE REVIEWS AND COMMENTARY] Podcast

I had an away rotation at Northshore Medical Center, and thus, a long commute there and back. This was around the time of our ITE, so I looked for something I could listen to during my long commute – that's when I found Jed Wolpaw's podcast. The first several episodes are very relevant board review topics and Jed does a fabulous job explaining it in a way that makes sense. It's like having your favorite attending in the room tutoring you on board review topics!
I haven't had a chance to listen to more of the recent episodes, but will be actively trying to follow it as I progress in my training.

Rishi Kumar, MD

Rishi is now a combined Critical Care/Cardiac fellow at the Brigham and posts great educational pieces that are easy to understand and learn from. He's also super responsive to questions and social media comments [check out his Instagram, too!].
Now what?!
Whew… that was a lot of information, eh? Yeah, I'm overwhelmed just looking at the entry. First things first – don't feel like you're alone in this journey. We've all been there… exhausted from the steep learning curve of starting anesthesia residency then finally when you think you've figured something out you start a new subspecialty rotation and start from scratch. I get it – it's tiring and sometimes frustrating. But we are also so fortunate to be in the best medical specialty ever – just think… you're the most capable physician on any airplane you ever fly. You can assess a patient, determine an appropriate differential, obtain appropriate access, titrate medications, manage an airway, manage ACLS, and actually administer appropriate treatment. Every time I think of just how versatile our training is, I can't help but feel warm and fuzzy about having picked the perfect field. Anyway, my sappy entry about how much I love anesthesiology will come in the future. In the meantime, please feel free to reach out to me via the comments below or by email with questions or any suggestions on how I can improve this entry! Good luck to everyone starting this rewarding journey in anesthesia training!