Today's inane image of the day: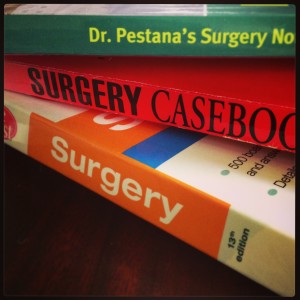 [Entry Last Updated: 6/23/15] Spring/Summer marks a time of transitions in medical training. Premedical students prepare to begin their training; seasoned first year medical students disperse to conduct research, travel or volunteer; second year medical students emerge from their study caves to see the light of day following the grueling USMLE Step 1 and begin to infiltrate the wards; third year medical students apply to away rotations, compile their resumes, ask for letters and prepare for the best year of medical school; fourth year medical students participate in commencement festivities and bask in the final days of freedom before residency.
It's quite an exciting time!
Anyway, this entry is meant to provide a list of the resources I used to study for my third year clerkships and shelf exams. I'll also include other resources I've heard others using.
The most important pieces of advice I can provide to medical students starting third year clerkships:
UWorld is your friend throughout the year [be smart about when you buy your year-long subscription; if you aren't going to start on questions during your first week/two, it isn't necessary to buy it yet]
pick a resource and stick with it; UWorld + one clerkship-specific review book = success
read up on your patients [via electronic medical record] and their pathologies [via your favorite evidence-based resource; while at Beaumont, I always used UpToDate]
If you haven't already seen this, check out my advice to third year medical students entry, too.

Before I started clerkships, I actually bought First Aid for the Wards and was relatively disappointed. Perhaps others had better experience with the book [as demonstrated by the reviews on Amazon], but I personally didn't think it offered much more than what I could already find online. Your best bet is actually just to ask any fourth year on your service for ways to excel as well as any of those seemingly "basic" questions you may have. At the end of the day though, most of the medical team doesn't expect a whole lot from the third year medical student on the team, so don't fret over not knowing everything.
Many people have recommended Maxwell's Quick Medical Reference – I looked at it before starting clerkships and decided that the tiny print wasn't the best format for me. I know a lot of students who swear by it – so definitely check it out and decide for yourself.
The clerkships are listed below in the order that I completed them. I used UWorld's questions for each clerkship [I don't think it's necessary for me to list it over and over again in the rest of the entry, so just keep in mind that I always did questions to review] and USMLEasy if I ran out of UWorld ones.
For those of you looking for specific clerkship advice, I've provided this handy set of in-page anchor links [click on the clerkship you'd like to jump down to]:
Surgery | Neurology | Pediatrics | OB/GYN | Family Medicine | Elective – Anesthesiology | Internal Medicine | Psychiatry | Capstone
Surgery
Because this was my first clerkship, I struggled a bit with my study habits and identifying the best way to do well in the ORs, on the floors and on my shelf exam. I ended up getting the following books:
As you can see, I went overboard with buying books for my Surgery clerkship. In my defense, I wanted to see what would work for me. In the end, my recommendations are: UWorld [& USMLEasy if you have time] + NMS Casebook + Pestana's. I ended up 2 points away from honoring this shelf exam [darn].
Some other resources I've heard my colleagues used:
First Aid for the Surgery Clerkship

Since Step 1 was still fresh in my mind, I really wanted to like the First Aid for "X" Clerkship series, but found that it just had too many words for me to focus on reading. Plus the book isn't exactly easy to put in your pocket [though, I've seen some of my colleagues make it fit, heh]. Either way, you need to see what works best for you – I know people have been successful with this series, so if you like it [translation: you can read it from cover to cover in time for your shelf exam], go for it!

Case Files Surgery

A lot of people also swear by the Case Files series. I didn't look into Case Files for this particular clerkship, so I cannot personally comment on it, but I did use it for a couple later clerkships. Again, my advice is that if you can finish the resource cover-to-cover, you'll probably be ok [most review books review the same stuff just presented in a different way!].
Neurology
This is an especially difficult course and shelf to study for because it is really feels like a 3 week rotation [it's 4 weeks]. Either way, it is one of the shorter rotations you will do as a third year. This clerkship is the most physical-exam-heavy one you will be on – but it's very cool because the positive findings are very apparent and you will quickly learn how to identify the location of a lesion [or lesions] through your examination. Anyway, here's what I [attempted] to use:
Blueprints Neurology

This book [and the following] were recommended by the clerkship as a good resource to study for the shelf exam with. I started with Blueprints, but never finished it because I kept falling asleep trying to read it. This led me to trying to switch to…

Casefiles Neurology

I was a lot happier with this book, but faced the issue of limited time. I think I was more than halfway through the clerkship by the time I actually started reading Casefiles, so this didn't bode well [I never finished this resource either, but did get through most if it]. If I could do it over again, I would have just focused on Casefiles.
I can't remember any of the other resources my colleagues used – if you have suggestions for other books I could add to this list, please comment below!
In the end, not finishing a resource led to a bad outcome for the shelf exam. I didn't do very well and I think that a combination of starting my studying late [bad idea for a short clerkship!] and not completing a review book really hurt me. In the end, my recommendations are: UWorld [& USMLEasy if you have time] + Casefiles.
Pediatrics
This was the first shelf exam that I honored during my third year; I was definitely proud of myself since pediatrics is known to be one of the more difficult shelf exams to achieve a high score in. With this one, I only did UWorld and read:
BRS Pediatrics

This resource is gold. It's also intimidatingly large. I will not lie to you – I didn't think I'd be able to finish this entire book in the 6 weeks [it was 6 back in my day – I know it's an 8 week clerkship now, so you should have more time to study]. Somehow, I mustered up the strength to do all of the UWorld questions and read this book cover to cover. As I mentioned earlier, I honored the shelf and attribute my success to this book.
Some other resources I've heard my colleagues used [I expressed my thoughts on the Casefiles and First Aid series earlier, so I don't think I need to rehash them]:
In the end, my recommendations are: UWorld [& USMLEasy if you have time] + BRS Pediatrics.
OB/GYN
So by this point in the year, I was really starting to feel burned out. This rotation spanned November/December and was the last one between me and a holiday break. Either way, despite my exhaustion, I managed to do very well on this shelf exam [yes, I honored it]. What did I use?
Beckmann's Ob/Gyn [the recommended textbook]

In general, I'm not the type to blindly listen to recommendations on textbooks [especially after buying many dollars worth of textbooks for M1 year and using maybe 1 or 2 of them…]. However, I heard from those that went through the clerkship earlier in the semester that this textbook was helpful for the exam. So… I took a chance on it and read the recommended chapters of the book [somewhere in the syllabus] in preparation for the shelf exam. It was definitely helpful for both pimping questions at the L&D board and the shelf exam.

ACOG uWISE

We were required to do a number of the quizzes hosted by ACOG – I found these questions to be immensely helpful for general knowledge and the shelf exam. I believe I did all of them [including the ones that were not required by the course].

ACOG Bulletins

If you ever exhaust all of your resources, just pull up this list of Bulletins and you'll be all set for a nightfloat shift at the L&D board. [Plus, a number of these are required reading, anyway].
Some other resources I've heard my colleagues used [I expressed my thoughts on the Casefiles and First Aid series earlier, so I don't think I need to rehash them]:
In the end, my recommendations are: UWorld [& USMLEasy if you have time] + Beckmann textbook + ACOG uWISE.
Family Medicine
After a relaxing holiday break, I started Family Medicine refreshed and ready to finish off the year strong. This shelf exam is also a bit challenging because: 1. it's only 80 questions; 2. it is very screening/preventative care heavy so studying the right recommendations is important; 3. some questions just have answers that all seem right [e.g. obese, hypertensive, smoker – would you recommend: a. weight loss; b. smoking cessation; c. diet modification? Uhh… well I would do all of the above, but that's not an option!]. Anyway, here's what I did:
Casefiles Family Medicine

I thought that Casefiles did a very good job with Family Medicine. I read this book cover to cover and enjoyed working through the cases in my head [plus, there usually is some downtime while you're in clinic, so you can get a lot done during the day].

AAFP Questions

You should sign up for a free AAFP medical student membership early – it takes a couple of days to process your application, so you do not get immediate access to these questions. I did maybe 1000 questions and overall thought they were helpful. One of my colleagues noted that she thought most [if not all] reminded her of USMLEasy questions.
This is one of the clerkships that I did a lot of USMLEasy questions on since UWorld didn't have very many in categorized under Family Medicine. I didn't hear of too many other resources my colleagues used for this clerkship, so feel free to comment below if you would like to suggest something!
In the end, my recommendations are: UWorld + USMLEasy + Casefiles + AAFP Questions.
I know that an elective is no longer an option for OUWB 3rd year medical students, but since some of you may want to do the 2-week required anesthesiology block early on in your 4th year [either because you're interested or because it could be helpful for your career – e.g. ENT, ER, etc], I thought I'd keep this in here. Obviously, I had some interest in the field because I picked it [and all of you know I ended up matching into anesthesiology], so I worked hard during the clerkship to pick up knowledge and do well clinically. I used:
Basics of Anesthesia [also known as, Baby Miller]

This book is provided to OUWB rotators, so don't go out and buy it unless you know you want to pursue a career in the field. The required reading for the clerkship do a great job covering the basics. For your mandatory quiz, you will have to pick up on the important points of anesthesia from your clinical experience [don't worry though – it is a straightforward and fair assessment].

Clinical Anesthesia Procedures of MGH

One of my attendings was an MGH grad, so he highly recommended picking up this "pocket-sized" book [it's really quite heavy, so while it can fit in your pocket, you may be paying for it later in life when you have lumbago]. I ended up buying it and referencing relevant parts for the procedures I'd be in the following day. Good thing I picked this particular book up…
I wish I had discovered Morgan and Mikhail's Clinical Anesthesiology [Lange] earlier – I personally enjoy reading M&M more than Baby Miller. Either way, Baby Miller covered the basics I needed for the clerkship and I did well.
Internal Medicine
Medicine is a relevant clerkship for everyone. Period. What you learn during your medicine clerkship is a basis for the rest of your career, so it's important to try to absorb as much as you can while on the wards. It is also a very tough shelf exam because it is broad. However, I honored this exam and did so by reading:
In the end, my recommendations are: UWorld + Step Up to Medicine.
Psychiatry
This was my last clinical clerkship of the year. By this time, spring was starting to blossom and I was itching to get a break. As a result… studying for this exam kind of fell by the wayside, and I didn't do as well as I had hoped. Either way, I know that most of my colleagues did very well on this exam just using:
First Aid for the Psychiatry Clerkship

I used this book, but really didn't take the time to memorize and drill questions like I had in previous clerkships. Either way, First Aid comes out on top for this clerkship.
I actually don't think I heard anyone else use any other resource [except for those of my colleagues that wanted to pursue the field of psychiatry – they purchased additional reading].
In the end, my recommendations are: UWorld + First Aid for the Psychiatry Clerkship.
Capstone
This 2-week rotation marked the end of my 3rd year [this option is no longer available for current and future 3rd years] and I used it to: 1. finish my Capstone; 2. study for Step 2 CK/CS. This also marks the end of this incredibly long blog entry.
Current 3rd and 4th years – did I miss anything? What other resources did you use to succeed on your 3rd year rotations?